BEST ACOUSTIC ELECTRIC GUITAR REVIEW
Introduction
Thanks to piezo pickup and compact preamp technology, amplifying acoustic guitars is now as easy as plugging into a PA or amp. This frees you up from limiting and complex mic placements and reduces the needed gear to perform amplified.
And because of their practicality, acoustic-electric guitars are now a staple in the market, even outnumbering regular acoustic guitars in some stores. Here we feature what the market considers as the best of these pickup equipped acoustics. Hope you will find this review helpful for your acoustic-electric guitar consideration.
1. Fender CD - 60SCE
The CD-60SCE is a classic dreadnought style guitar with Venetian-cutaway that helps you easily reach upper frets. Fender's choice of solid spruce top and mahogany back and side not only generates rich and bright sound but also increases the durability of the overall construction. The mahogany neck has a shape that makes it more playable while the Fender X-bracing adds more resonance to the guitar.
The basic hardware like the dual-action truss rod and compensated saddle are standard quality. The same cannot be said of the crème plastic nut which really does not improve the sound. You will be getting the essential accessories like picks, strap, strings, a lesson DVD, and a really nice and handy clip-on tuner. Most importantly, a pretty decent quality hard-shell case is included that will keep your guitar protected and contain all the other accessories.
In terms of sound, Fender does its magic and makes this pretty affordable guitar sound amazing. The full-bodied, rich sound, and well-balanced tone that this model has are not common in its price range. The guitar stays in tune and also has great projection.
Regarding electronics, The CD-60SCE is equipped with Fishman Isys III. The onboard preamp with a chromatic tuner and volume, bass, treble controls give you basic but good control over the sound. The system reproduces the acoustic sound of the model pretty well without any buzz while keeping the tone intact.
Pros:
Full, Rich Sound

Good Electronics

Easy to play
Cons:
2. Traveler 6 Strings
Traveler Guitar 6 String has an in-body tuning system and it comes with a detachable lap rest. But this one is lighter, more portable and more versatile, making it one of my top choices.
More interestingly, you are able to choose which type of wood you want in your guitar, just like you can choose whether you want right or left-hand orientation. 
It doesn't have a headstock, so it is going to take some time to get used to this travel guitar. But once you do, I'm confident you will love it and carry it anywhere – you will get the full-scale playing experience but in a much smaller package.
This guitar features an under-saddle Piezo pickup, for amazing acoustic sound. And the standard 1/4" output allows you to plug this in the regular or headphone amp you already have.
Bear in mind that even though this guitar is going to sound amazing, it is going to be rather quiet in acoustic mode. While this might be great for practice, you will be kind of disappointed if you want to show off in front of friends and relatives. You are compromising on that, but in return, you are getting an instrument so portable you will want to take it wherever you go. And I think that is still a really good deal.
Pros
Detachable lap rest

Versatility

Portability
Cons
Very quiet in acoustic mode

Takes some getting used to
3. Ibanez AW54CEOPN
The Ibanez AW54CE is a classic dreadnought with a cutaway. This electro-acoustic guitar stuns in a dark brown open-pore finish which lends it an elegant rustic look. When you first look at the guitar, it is easy to notice the mahogany material.
It has a solid top, while the back and sides are laminated. Nevertheless, with its affordable price point, the mahogany top should be good enough to say that the guitar is an impressive option hardware-wise.
Even the neck is made of mahogany and carries a classic rosewood fretboard. The satin finish which makes fretting up and down smooth and subtle only brings attractiveness to the neck. Adding the pretty tortoiseshell pickguard, you get a really nice-looking electro-acoustic guitar that is oozing with vintage appeal.
The guitar boasts a rich tone no matter if you plug or unplug. The dreadnought body style and the solid mahogany top contribute a lot to the abundance of natural projection and resonance. The all-mahogany build makes the tone warmer, while the X-bracing keeping things more defined.
The Ibanez AW54CE is fully equipped with technology that helps enrich both tone and performance. When used with the Ibanez AEQ210TF preamp and Fishman Sonicore pickup, you get an onboard tuner and a 2-band equalizer to give more control over how the guitar talks.
The headstock has six chrome die-cast Grover tuners and a bone nut and saddle on the rosewood bridge. The bridge carries pins that help ease the task of string alterations. In addition, this guitar comes with D'Addario EXP strings.
Pros:
Amazing Looks

Great Hardware

Great Value
Cons:
4. Takamine GJ72CE-12NAT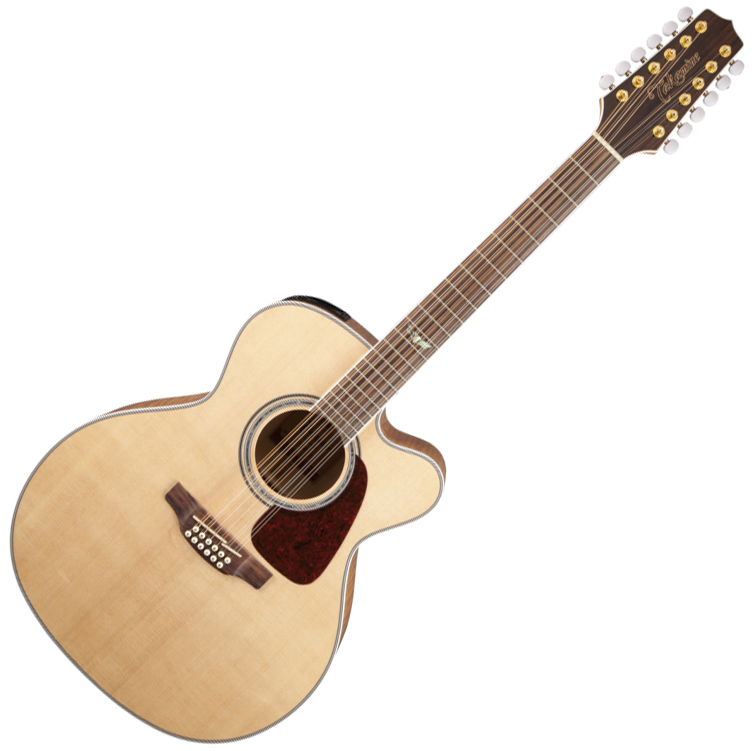 The GJ72CE-12 string guitar is specially made for big occasions. It is easy to play with a slim mahogany neck and the rosewood fingerboard. The guitar is the most sensitive to touch that you can even use bare fingers to strum it and get some great music. The GJ72CE-12 has flame maple back and a solid spruce top that gives it a great feel.
The maple sides lend this guitar a great tone and projection. If you love a sound that cuts through the noise of all other instruments, then this guitar is definitely a must for you. What's more? Those who find the sound too bright can make adjustments to get their taste. Tone and playability are the most important aspects when looking for a good guitar and the GJ72CE-12 string guitar ticks all those boxes.
A good physical attractiveness is also something vital to some people. This is a charming guitar because of the splendid gloss finish that you can't help picking up and take photos to show off to your friends. The blond neck and gold tuners make this an excellent guitar not just to play but to look at as well.
Those who may have had issues playing a 6-string guitar will be pleasantly surprised by the GJ72CE-12 because it is so easy on the fingers and amazingly easy to play. There is an inbuilt tuner
that makes it well-tuned
, fantastic for a 12 string guitar considering all the tension that comes such some
great guitar strings
.
Pros:
A vast array of electronic choices

Classical look

Versatile sound
Cons:
Only suited to electronic guitar players
5. Yamaha A-Series A3M
The guitar owns an all-solid-wood model, with solid Sitka spruce on the top, and solid mahogany used on the back and sides – all featuring Yamaha's Acoustic Resonance Enhancement (A.R.E.) treatment, which essentially pre-ages the wood for a beautiful tone.
The mahogany neck is incredibly comfortable, with a straight taper and hand-rolled edges on the rosewood fretboard. Featuring a matte finish and 19 frets, it's fast and fun to play, with the body cutaway offering great access to the higher frets.
The Yamaha A-Series A3M features its own S.R.T. (Studio Response Technology) system, blending a combination of both piezo pickup and microphone. The preamp is controlled with a master volume and 3-band EQ (bass, middle and treble), all via subtle dials on the side of the body – a breath of fresh air compared to some of the more cumbersome control panels and helps retain the guitar's naturally elegant look.
Electronics aside, the A3M is equipped with a robust set of sealed die-cast chrome tuners, an ebony bridge, a urea nut and saddle, and a quality set of Elixir coated strings, for great playability from the moment you open the box.
From acoustic projection to plugged-in tone, the A3M sounds amazing – it needs to be heard to be understood. The combination of solid spruce and solid mahogany lends itself to a beautifully balanced tone, which is already 'broken in' in terms of aging. It's therefore full and rich, with great warmth. Acoustically, it projects loudly with no help from the electronics, but through the S.R.T system the A3M sports a pro sound – it's natural and dynamic and worthy of both stage performances and recording. Pretty flawless, especially for this price.
Pros
Great action

Fantastic look

Easy to play
Cons
Occasional string buzzing noise 
First Thing to contemplate in an Acoustic-Electric Guitar
Although the electronics can make a big difference, your guitar will ultimately be limited by the tonal clarity it offers when unplugged.
One of the most essential things to meditate is how well the resonator box performs and how it balances projection and clarity, as well as how much note sustain you can squeeze out of it.
What to Expect from Pricing
As you can see, even in the case of acoustic-electric guitars, you can find some very affordable instruments. But, the less you pay, the more student-oriented the guitar will be.
Although some affordable guitars can be loud and feel great when playing on them, you shouldn't expect the highest tonal clarity or a very good balance across all registers.
Music doesn't lie. If there is something to be changed in this world, then it can only happen through music - Jimi Hendrix
Check out our No.1 recommendation for learning guitar here.
How Much Do Electronics Mater?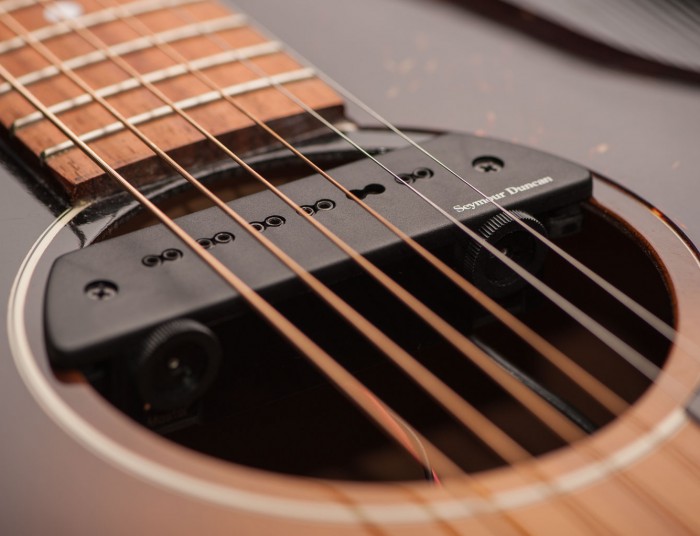 A good preamp and pickup are very important. The more high-end the electronics, the better the capture, and the louder you'll be able to play without sacrificing clarity.
Fishman may be the most well-known name in this niche. However, you can also find custom preamp and pickups produced by many other guitar manufacturers.
If a guitar has decent electronics and the tone sounds the best to you, switching models just to get a brand-name preamp or pickup may not always be a smart decision.
Accessories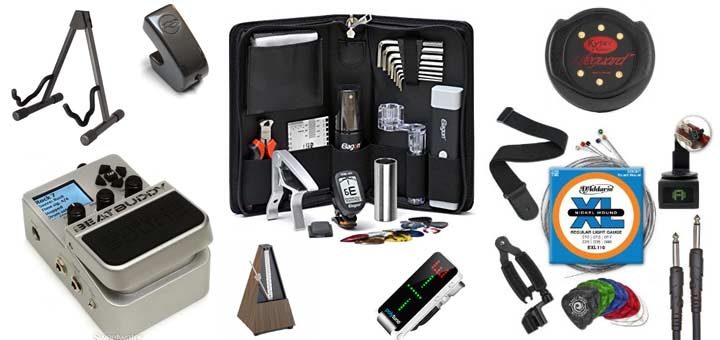 If you're interested in saving some money too, you can't get overly caught up in the bells and whistles. Sure, most manufacturers sell acoustic-electric guitars without even a gig bag. After all, they're likely to be pricey, to begin with, because of the delicate craftsmanship and electronic components.
Therefore, you might not want to pay extra just for some replacement strings, picks, or pickguards. However, you might want to pay the extra buck for chrome or gold die-cast tuners. Or for an onboard tuner. Or a solid top guitar.
It's vital to manage priorities before setting on a path to acoustic-electric playing.
Be as Loud as You Want to Be
Don't be afraid to experiment and play your music in more than a familiar setting or environment. By now, you should be equipped with enough knowledge to make a highly informed pick. This article has both cheap and high-end acoustic-electric guitars in it, so anyone can find a good instrument within their budget.
Check out our Best-selling Guitar accessories here-

Unique Guitar accessories
Conclusion
There are more expensive models out there, but the guitars on this list hit the sweet spot for quality construction, great sound, and excellent value. This should serve as a great starting point for finding the best instrument for your needs.
When it comes to versatility, you simply can't beat a good acoustic-electric guitar. Whether you want to play quiet acoustic in your living room, plug into a recording system, or rock out at a gig, you'll be ready for any occasion or venue plugged in or unplugged.
------
About the Author:
Leo is the founder of

sixstringtips

, a music website providing and sharing trust and useful information to help people easier to choose musical instruments and learn to play guitar.
Check out these other Blogs we recommend for Best acoustic electric guitar.
1. guitarworld.com
Best acoustic electric guitars 2022: 11 electro-acoustics for all players
2. guitarplayer.com
Best Acoustic Electric Guitars 2022: The Best Of Both Worlds At Your Fingertips